| Posted in:Taking A Look At
Shoot for the Moon LLC presents Space Race 3D; the game features the musical score by Jason Graves, whose accomplishments include composing music for top of the line games such as Dead Space and Tomb Raider. Gaming enthusiasts eagerly await the launch of the new game scheduled for spring 2013.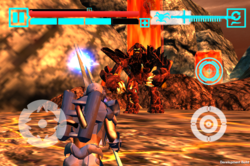 Los Angeles, CA (PRWEB) January 20, 2013
In spring, Shoot For The Moon will release Space Race 3D, an action-adventure game scored by Jason Graves.
The themes created by Mr. Graves are extraordinary!" says Fred Fazli, creative director for Space Race 3D. He further goes on to say, things are really shaking up in the video game music industry. When I play a game, its the music that gets me first. A good score can elevate the game play, raise the tempo and put you in control as it moves the character along the story line. When we were designing this game, early on, I knew that music would play a great part. We were extremely fortunate to sign Mr. Graves and hes a true master of his craft.
Music gives us the ability to make emotions come alive. Video game composers create sounds that really stay with you long after you are done playing the game. These echoes are integral to the drive of the story and the journey we are about to embark on.
The BFTA award winning composer Jason Graves is more recently known for his musical scores for Dead Space, a survival horror-action video game, and the 2012 reboot of the Tomb Raider franchise.
Shoot for The Moon has partnered with VezTek USA a Los Angeles California based mobile games studio – for the Space Race 3D project.
At VezTek our business philosophy is to get involved with only those games that we truly believe in: through his clear vision and enthusiasm about Space Race 3D, Fred turned us into believers within the first 10 minutes of our very first meeting, says Sani Abdul-Jabbar, the managing director at VezTek USA. Sani is currently overseeing the design, development and marketing of the Space Race 3D project. The game will be initially available for iOS and Android devices.
————————————————
Support This Blog By Visiting Partner Contribution in respect to Betfair -
BetfairGo Here
————————————————
9 Comments